Online: the astronomical perspective of climate change (Astronomy on Tap, Leiden, English)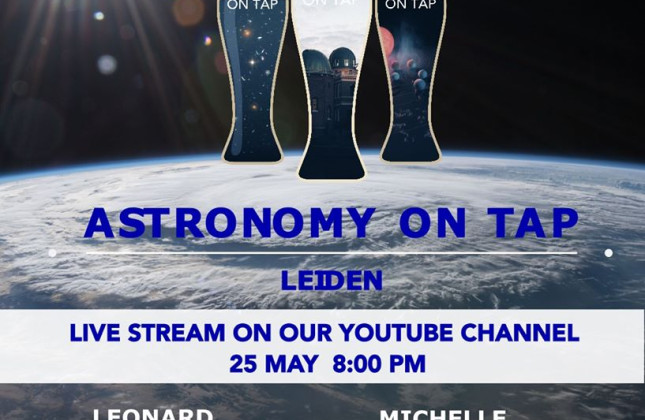 At Monday 25 May from 20:00 hours Astronomy on Tap Leiden will discuss the astronomical perspective of climate change. Speakers are Leonard Burtscher and Michelle Willebrands. Come out and join the discussion. Due to corona the event will be held via a livestream at the Youtube channel of Astronomy on Tap Leiden.
Leonard Burtscher: "The climate crisis from an astronomical perspective"
Leo obtained his Ph.D. in astronomy in 2011 at the Max-Planck-Institute for Astronomy in Heidelberg, Germany, with a thesis about mid-infrared interferometry of nearby Active Galactic Nuclei. He continued to work on Active Galaxies and interferometric instruments during his postdoc at the Max-Planck-Institute for extraterrestrial physics in Garching/Munich. Since 2017 he is a staff astronomer at Leiden Observatory and calibration scientist for ELT/METIS. Leo is also passionate about science education and outreach and since recently he is co-leading a worldwide group of astronomers who are making use of the astronomical perspective to convey a feeling of global citizenship. Leo is married and has three children. In his talk, he will outline which astronomical factors influence the climate on Earth and show that none of these are responsible for the climate crisis that we are experiencing.
Michelle Willebrands: To Cherish the Pale Blue Dot
Michelle is an astronomer-turned-science-communicator at Leiden University. With a master's degree in both fields, she now coordinates the IAU European Regional Office of Astronomy for Development. Her work focuses on realising the potential of astronomy, including its skilled people and infrastructure, to contribute to socio-economic development and the UN Sustainable Development Goals. In other words, to use astronomy to make the world a better place. In her talk, she will discuss the role of astronomers in the global climate change challenge and highlight the Pale Blue Dot project.
More info at the Facebook page of Astronomy on Tap Leiden.