Extreme Astronomy! (Astronomy on Tap, Leiden, online, in English)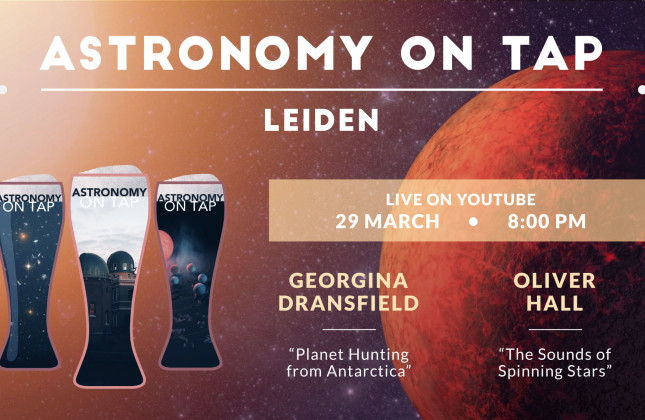 The next online Astronomy on Tap will take place on monday 29 March and will be streamed live on the AoT-Leiden YouTube channel. Oliver Hall and Georgina Dransfield will tell us all about spinning stars and planet hunting from Antarctica. So grab a drink, get comfortable, and join the discussion for an evening of informal astronomy, fun games, and a chance to win cool prizes. All ages and backgrounds are welcome.
Read more about the speakers and their talks below the embeded YouTube-frame of the event.
Oliver Hall: "The Sounds of Spinning Stars"
Oliver is in his first year of a research fellowship with the European Space Agency in the Netherlands, where he recently moved after finishing his PhD at the University of Birmingham in the UK. His research focuses on asteroseismology - the study of variable stars - and specifically how we can use large amounts of asteroseismic data to find out new things about the physics that govern populations of stars. In his free time, he enjoys games, exploring Leiden, and wrestling his puppy. Oliver will talk about vibrations in the Sun: the study of astroseismology. The study of asteroseismology has been used to understand transitions between different layers of the Sun, to see how the deepest cores of giant stars rotate, and to find exact ages of exoplanets and their hosts, just to name a few! In this talk, you'll get a brief introduction into how stars make 'music', and how we can use that music to measure the rate of their rotation in stars like the Sun.

Georgina Dransfield: "Planet-Hunting from Antarctica"
Georgina is an Anglo-Uruguayan graduate student at the University of Birmingham. George taught high school Physics for six years before deciding to embark on a PhD in the field of Exoplanets. She enjoys winning at board games and having staring contests with her dog, Amy. In her talk, she will explain how we can hunt for exoplanets from Antarctica. You might not want to visit the South Pole for your next holiday, but when it comes to finding new worlds, Antarctica is the coolest destination on Earth!