Astronomers for Planet Earth (Astronomy on Tap, Leiden, online, in English)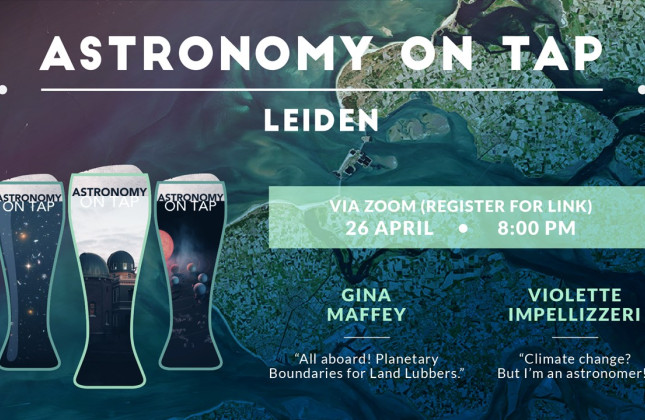 Note: this Astronomy on Tap will take place on Zoom and will be streamed via YouTube. Join us at 20:00 CEST! If you want to join through Zoom, registration is required before Monday 26 April at noon CEST.
Gina Maffey and Violette Impellizzeri from Astronomers for Planet Earth will tell us about the climate crisis from the lens of astronomers.
Gina Maffey: "All aboard! Planetary Boundaries for Land Lubbers"
Ahoy, me hearties! Come sail the seven seas of climate change and see how astronomers are contributing to the preservation of our Pale Blue Dot. We'll tour the foundations of the environmental movement in astronomy and explore how we can understand the resource limits of planet Earth, often referred to as planetary boundaries. Finally, we'll look at how to avoid ending our journey on a sinking ship. Pirate costumes optional, but strongly encouraged.
Gina Maffey is a passionate advocate for the only planet we are lucky enough to call home. After studying in Scotland for a PhD in environmental science, she worked in the Americas in research and environmental communication. On arriving in the Netherlands, she undertook a science communication role at a European radio astronomy institute. A serendipitous meeting at the European Astronomical Society resulted in the formation of Astronomers for Planet Earth. Gina also acts as the chair of the Wildeor Foundation, a charity working to bring nature back to life.
Violette Impellizzeri: "Climate change? But I'm an astronomer!"
I first heard about climate change and CO2 emissions while studying astrophysics - as an undergraduate - at the time of the Kyoto meeting. But then the consensus was that climate was for climatologists, and so I went on with my passion: black holes & astronomy. Two decades later, the paths of climate and mine crossed again but this time forever shifting my own perspectives. In this talk, I will highlight why climate and astronomy are intertwined, and how black holes can help solve the climate crisis.
Violette is an astronomer with a particular liking for observatories and night-time observing of the sky. Her interests are black-holes and how they grow and emit powerful jets. She is part of the team that took the first image of a supermassive black hole, that came out two years ago. Recently, she has become passionate about raising climate change awareness and how astronomers can help shape a better future.

More information: http://aot.strw.leidenuniv.nl/