AoT Leiden: Searching for unique planets!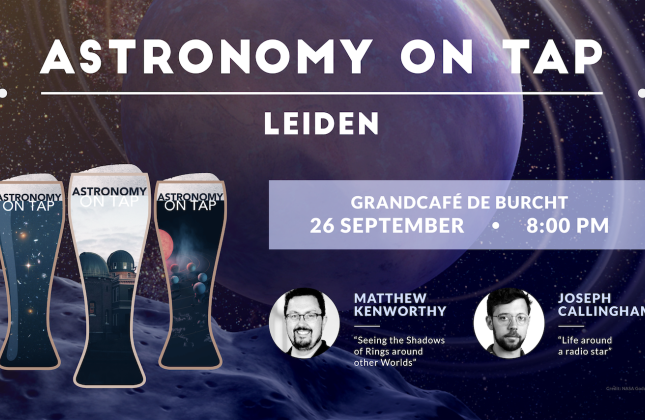 Op maandag 26 september is in Grand Café de Burcht de volgende Astronomy on Tap Leiden.
Adres: Burgsteeg 14, 2312 JS Leiden 20:00 uur.
Aanmelden: https://aotleiden.eventbrite.nl/ 
Het programma is in het Engels.
Sprekers zijn Matthew Kenworthy en Joseph Callingham, naast een quiz waarbij prijzen te winnen zijn. 
Informatie over de sprekers (Engels):
Matthew Kenworthy: "Seeing the Shadows of Rings around other Worlds"
Matthew Kenworthy is an Associate Professor at Leiden Observatory. In addition to searching for shadows from other stars, he uses some of the world's largest telescopes with optics that can remove the glare of stars to reveal planets orbiting around them. He will talk about how searching for strange eclipses around young stars led him to discover giant ring systems around young planets outside our Solar system.
Joseph Callingham: "Life around a radio star"
Astronomers can now easily identify planets outside our Solar System. However, it remains a mystery if such planets can host life. Joe will reveal how radio waves emitted from exoplanets can help us understand if life could exist around the most common stars in the Galaxy. Joe Callingham is an Australian astrophysicist based at the Leiden University. He specialises in studying radio stars, exoplanets, and the evolution of galaxies. He also enjoys surfing, running, reading, anything to do with science fiction, and having a schooner of beer.
Meer info op: http://astronomyontap.nl/