AoT Groningen (online): What happens when a star falls into another star?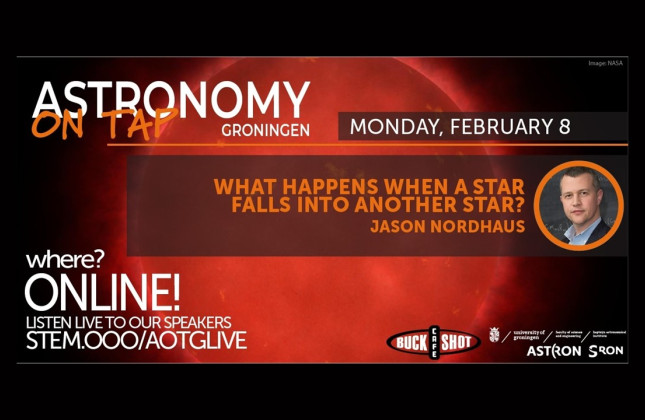 The next edition of Astronomy on Tap Groningen will be held online on 8 February at 20:00. Jason Nordhaus answers the question: What happens when a star falls into another star? Join us via Youtube and a virtual pub.

Read more about the speaker below the YouTube-frame of evening.

Jason Nordhaus is a theoretical astrophysicist and assistant professor of physics at the National Institute for the Deaf (NTID) at the Rochester Institute of Technology (RIT) in Rochester, New York. He is also core faculty in the Center for Computational Relativity and Gravitation, and a professor in the Astrophysics PhD program. Prior to joining RIT, Jason was a post-doctoral fellow in the Department of Astrophysics Sciences at Princeton University. Jason is fluent in American Sign Language (ASL) and works to expand opportunities for deaf and hard-of-hearing students in astrophysics.

Come join us to enjoy the entertaining talks and have fun participating in our always popular quiz. Don't forget to bring your drink of choice and enjoy! Hang out with us in the chat, ask the questions you always wanted to know the answers to and come along after the talks to our "virtual pub" to talk directly to the speakers and the astronomers of AoT Groningen! (link: http://stem.ooo/zoompub, available during and after the event).