AoT Groningen (online): The Secrets of Saturn & Alien Comets in our Solar System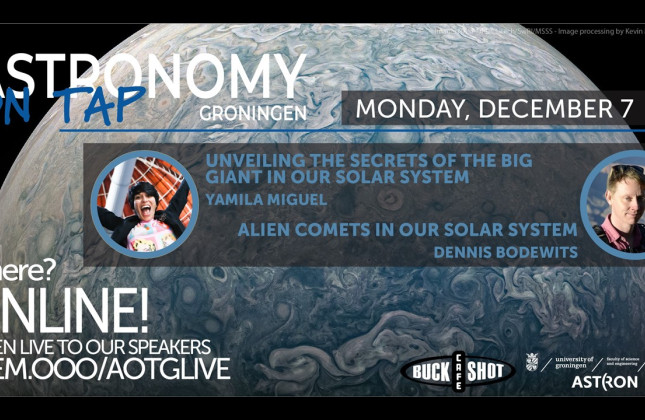 The next edition of Astronomy on Tap Groningen will be held online on 7 December at 20:00. Yamila Miguel will talk about unveiling the secrets of the big giant in our solar system. Dennis Bodewits will tell us about alien comets in our solar system. Join us via Youtube and a virtual pub.
Read more about the speakers below the YouTube-frame of evening.

Yamila Miguel is an assistant professor at Leiden Observatory and SRON. She wants to know if there are other solar systems like our own in the Universe, and for this she studies the atmospheres and interiors of planets in our solar system and beyond. She is part of the scientific team of the NASA Juno mission and during her talk she will tell us about the relevance of Jupiter and Saturn in the history of the solar system and what did we learn from this fascinating mission that has been orbiting the biggest giant in our solar system.

Dennis Bodewits is an associate professor of Physics at Auburn University. Born in Hoogezand-Sappemeer, the Netherlands, he studied experimental physics and astronomy at the University of Groningen. He got his Ph.D. after writing a dissertation on charge exchange emission from solar wind ions interacting with cometary atmospheres at the Center for Advanced Radiation Technology (KVI-CART) at the University of Groningen. Between 2010 and 2018 he was a member of the Small Body Group at the University of Maryland. He joined the Physics Department at Auburn University in 2018. The IAU honored him by assigning asteroid 10033 the formal name 'Bodewits' in 2017. Fun fact: He is one out of a dozen people who ever flew a man-powered helicopter (the University of Maryland's Gamera II).
Come join us to enjoy the entertaining talks and have fun participating in our always popular quiz. Don't forget to bring your drink of choice and enjoy! Hang out with us in the chat, ask the questions you always wanted to know the answers to and come along after the talks to our "virtual pub" to talk directly to the speakers and the astronomers of AoT Groningen! (link: http://stem.ooo/zoompub, available during and after the event).