AoT Groningen (online): Black hole imposters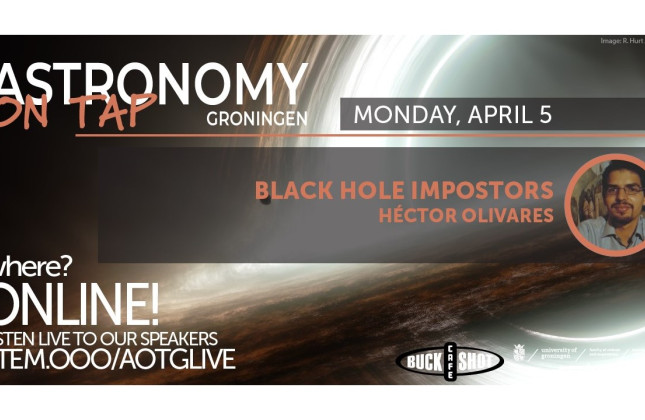 The next edition of Astronomy on Tap Groningen will be held online on Monday 5 April at 20:00. Héctor Olivares will talk about black hole imposters. Join us via Youtube and a virtual pub.

Read more about the speaker below the YouTube-frame of evening.
Héctor Olivares studied Physics at the University of Veracruz, and at the Center for Research and Advanced Studies of the National Polytechnic Institute, in Mexico. Currently, he is a postdoctoral fellow at the Radboud University Nijmegen and a member of the Event Horizon Telescope Collaboration. In his talk, he will discuss the properties of popular black hole mimickers such as boson stars and wormholes and how their existence could indicate new physics and shed light on the nature of dark matter.
Come join us to enjoy the entertaining talks and have fun participating in our always popular quiz. Don't forget to bring your drink of choice and enjoy! Hang out with us in the chat, ask the questions you always wanted to know the answers to and come along after the talks to our "virtual pub" to talk directly to the speakers and the astronomers of AoT Groningen! (link: http://stem.ooo/zoompub, available during and after the event).